Working for You
U.S. Airlines Continue Hiring Spree as Industry Surpasses Pre-pandemic Employment
November 21, 2022
Every day, more than 2 million people are traveling to see loved ones, go on vacation or take a business trip and as we approach the busy holiday season, airports across the country are preparing to welcome even more travelers – some even flying for the first time since the pandemic. What many passengers don't see are the more than 777,000 passenger and cargo airline employees who are working hard throughout the holidays to ensure you and your packages to your destination safely and efficiently.
A4A carriers have adapted to new post-pandemic employment realities and launched aggressive hiring campaigns – establishing new pilot training academies, to supporting programs to address financial hurdles and ramping up recruiting initiatives – to hire for positions across the industry. As the industry announces record high employment, it's clear these efforts are working.
U.S. passenger airlines now employee the most employees in nearly two decades — adding nearly 5,000 employees per month from November 2020 to September 2022. In fact, U.S. passenger airline job growth from 2019 has been significantly outpacing overall job growth in the United States. There has truly never been a better time to join this industry.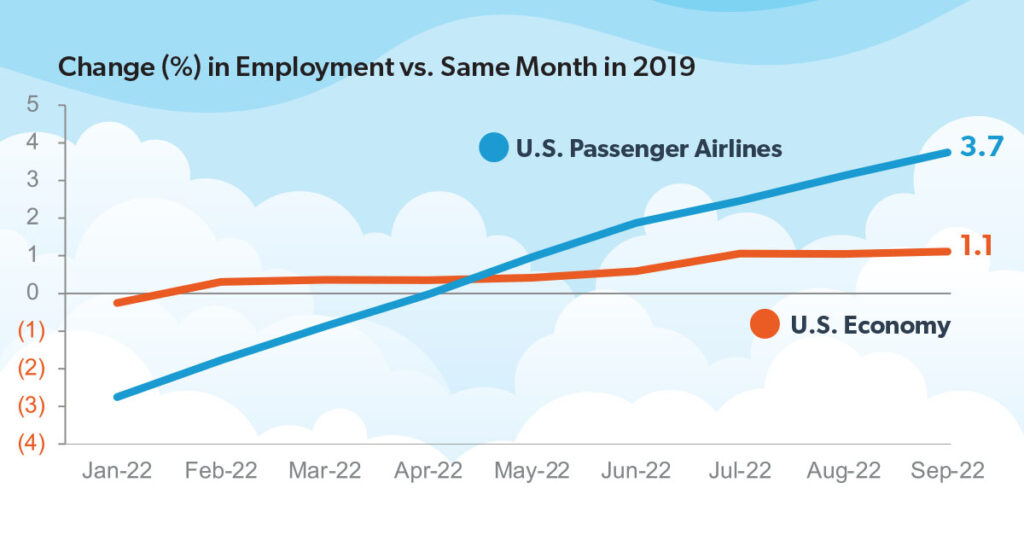 And, carriers are not stopping here – we understand the importance of securing a pipeline of employees across the industry to accommodate future demand for air travel. This is why carriers have invested heavily in new programs, including apprenticeships, pilot academies, partnerships with universities.
Not only do jobs in the aviation industry provide the opportunity to work in the intricacy of the operation and experience the magic of flying, but U.S. airlines are proud to offer high-quality, career track jobs that are well-paying and provide great benefits. In fact, in 2021, air transportation employees earned wages 37 percent higher than the average private sector employee.

The aviation industry offers a wide range of opportunities – from interacting with customers at the gate, providing the highest levels of service onboard, being on the flight deck as a pilot, working on an engine as an aviation maintenance technician and so much more.
For more information on our members' commitment to hiring and employment opportunities, visit A4A's Airlines Jobs page and the links below:
Media Contacts
Marli Collier
Manager, Communications
Hannah Walden
Manager, Communications