Travel Tips
How to "Fly Healthy Fly Smart" this Holiday Season
November 21, 2021
Travelers are booking tickets and returning to the skies to visit family and friends this holiday season, and U.S. airlines are eager to reunite countless people who have not seen each other in nearly two years, if not longer. For those flying for the first time since before the pandemic, the travel experience will look different. Passengers will encounter enhanced disinfection protocols and new touchless technology throughout the travel journey designed to help everyone "Fly Healthy. Fly Smart." from check-in to touchdown. Before heading to the airport, keep in mind these five travel tips: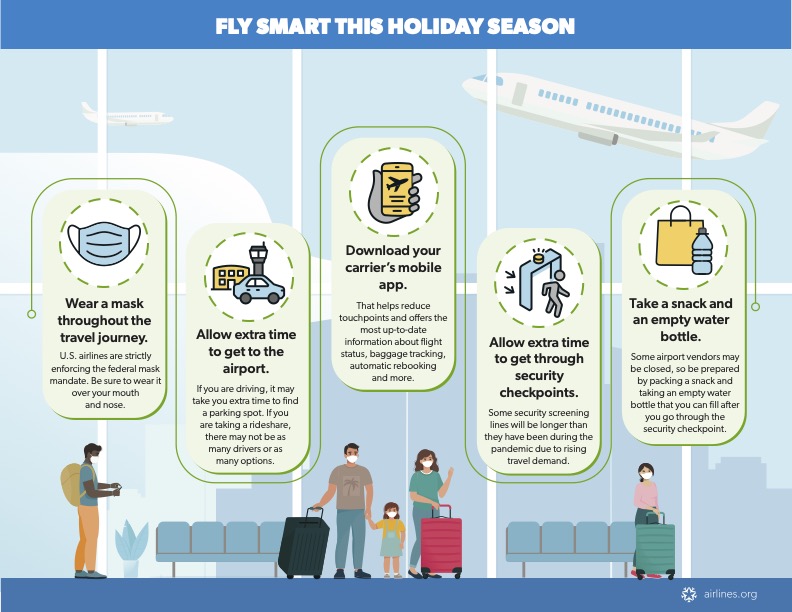 ---
Wear a mask throughout the travel journey
Grab a face mask or covering before heading to the airport. Face masks are required during the entire travel journey, and U.S. airlines are vigorously enforcing the federal mask requirement on board the aircraft. Face coverings are one measure in the multiple layers of protection that effectively reduce transmission of COVID-19, according to research by the Harvard School of Public Health.
Allow extra time to get to the airport
Whether your plan to drive and park at the airport or take a cab or rideshare and be dropped off at the terminal, allow extra time to get there. If you are driving, it may take you more time than usual to find a parking spot. If you are taking a rideshare, there may not be as many drivers or as many options.
Download your carrier's mobile app
Throughout the pandemic, U.S. airlines have expedited the rollout of touchless technologies, including enhancements to smartphone applications. Airlines' mobile apps are a one-stop location to easily access information and updates for your flight – gate information, flight status, baggage tracking, automatic rebooking and more. Download your carrier's mobile app ahead of the travel journey for an enhanced customer experience and to reduce touchpoints.
Allow extra time to get through security checkpoints
U.S. airlines continue to work closely with the Transportation Security Administration (TSA) to prioritize a safe and seamless travel experience. This holiday season, many travelers will be taking their first flight since the start of the pandemic. Pack your patience – some security screenings lines will be longer than they have been during the pandemic due to rising travel demand.
Take a snack and an empty water bottle
Some airport vendors may be closed, so be prepared by packing a snack and taking an empty water bottle that you can fill after you go through the security checkpoint.
Media Contacts
Katherine Estep (Spokesperson)
Managing Director, Communications