Our member airlines work hard every day to provide high-quality customer service, delivering passengers and packages safely to their destinations. Through the transfer of people and goods, U.S. airlines connect us to cultures and traditions across the world, truly making it a smaller place.
As the Island of Hawaii's Kilauea volcano continues to spew dangerous ash and smoke, U.S. airlines are committed to safety and assisting those in need.
Hawaii's hometown airline, Hawaiian Airlines, has jumped into action in the wake of the volcano's devastation. Along with issuing travel waivers for any guests who wish to change their reservations and offering complimentary checked luggage to those carrying supplies for those in need, the airline is pitching in to feed evacuees in shelters who have been forced out of their homes. Hawaiian also donated $50,000 to the Salvation Army of Hawai'i and employees are continuing to donate goods and relief supplies to those affected.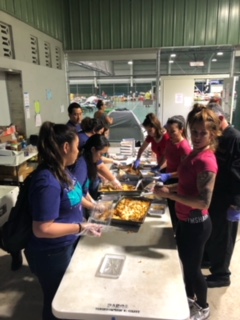 Hawaiian's Team Kōkua employee volunteers prepare food for residents of Puna, who are being housed in shelters.
Additionally, passenger carriers who serve the Hawaiian Islands have also issued travel waivers for anyone unable to travel to or from the affected islands due to the volcano. To change your travel plans to or from Hawai'i, please consult your carrier's link below.