Safety & Security
Airlines for America Launches "Fly Healthy. Fly Smart." Awareness Campaign
May 20, 2020
New data shows only 8.5 percent of U.S. airline flights are more than 70 percent full
WASHINGTON, May 20, 2020 – Today, Airlines for America (A4A) – the industry trade organization representing the leading U.S. airlines – announced the launch of a new public awareness campaign, "Fly Healthy. Fly Smart." The campaign, launched to educate travelers ahead of the Memorial Day weekend, includes multi-media outreach showcasing the enhanced cleaning and procedural changes U.S. airlines are implementing as well as reminding the traveling public of steps they can take to help prevent the spread of COVID-19. The campaign includes an infographic, video, blog posts, social media engagement and an updated webpage at AirlinesTakeAction.com.
"The safety and wellbeing of passengers and employees is the top priority of U.S. airlines. Since the onset of this health crisis, carriers have been taking substantial, proactive steps – in many instances exceeding CDC guidance – to protect passengers and employees," said A4A President and CEO Nicholas E. Calio. "With the Memorial Day holiday approaching, U.S. airlines are coming together as an industry to deepen their commitment to instituting multiple layers of protection throughout the travel experience – from check-in to touchdown."
Airlines Take Action
A4A's member airlines are requiring passengers and customer-facing employees to wear a face covering over their nose and mouth throughout the journey — check-in, boarding, in-flight and deplaning.
At check-in counters and gate areas, travelers may see agents sanitizing counters and kiosks. Some airlines have installed plexiglass shields over the counters to provide additional protection, and some have marked the floors to ensure appropriate distance is maintained.
All A4A member airlines have aircraft equipped with HEPA filters, which help generate hospital-grade air quality. The Centers for Disease Control and Prevention (CDC) has said that, "Because of how air circulates and is filtered on airplanes, most viruses and other germs do not spread easily on flights."
U.S. airlines have implemented intensive cleaning protocols, in some cases to include electrostatic cleaning and fogging procedures. Carriers are working around the clock to sanitize cockpits, cabins and key touchpoints – including tray tables, armrests, seatbelts, buttons, vents, handles and lavatories – with EPA-approved disinfectants. Airlines have increased the frequency of deep cleaning procedures for both domestic and international flights.
Carriers have implemented a range of policies – including back-to-front boarding and adjusting food and beverage services – to help allow for distancing between people.
As an additional layer of protection, A4A's member airlines have encouraged the Transportation Security Administration (TSA) to begin conducting temperature screenings.
All travelers are urged to stay home when ill, frequently wash their hands and to wear a face covering throughout their air travel journey, consistent with CDC guidance.
New Data Points
As stay-at-home orders and travel restrictions are lifted, the country and communities are slowing reopening, meaning more people are choosing to travel by airplane. While some travelers may experience full or near-full flights, data from the most recent week of operations shows that the vast majority of U.S. airline flights (73%) are less than 50 percent full. As an added layer of protection, airlines are attempting to leave some seats open for distancing between travelers when feasible, but not all circumstances allow for that. Some airlines are working with passengers to make accommodations when possible, but it is important to note that only 8.5 percent of U.S. airline flights are more than 70 percent full.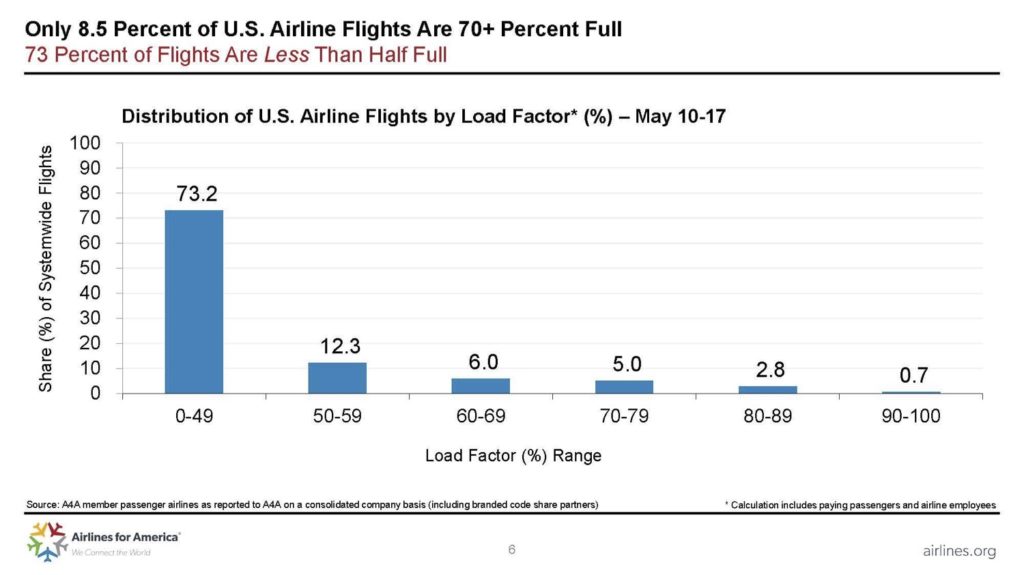 Just last year, the TSA recorded a record number of travelers, with nearly 2.8 million people being screened at airports on May 28, the Friday prior to Memorial Day. This year is a very different story. The TSA is screening 91 percent fewer people. More than 50 percent of commercial aircraft in the U.S. are parked, and of the planes flying, airlines are averaging 39 passengers per domestic flight – an 83 percent decrease in capacity compared to last year.
"Airplanes Don't Make You Sick"
This week, Harvard Professor Joseph Allen wrote in the Washington Post, "The ventilation system requirements for airplanes meet the levels recommended by the Centers for Disease Control and Prevention for use with covid-19 patients in airborne infection isolation rooms." His full piece, Airplanes don't make you sick. Really., goes on to say that, "There's a reason the risks are low. The required aircraft systems do a really good job of controlling airborne bacteria and viruses."
For more information about how carriers are working to protect traveling public and what travelers can do to protect themselves and others, please visit www.AirlinesTakeAction.com.
Media Contacts
Marli Collier
Manager, Communications
Hannah Walden
Manager, Communications