Industry Insights
New Rules for Animals in the Sky
August 20, 2019
Take a look around the airport or airplane the next time you fly. You'll quickly notice that the number of people traveling with "emotional support animals" is surging. Last year, more than a million passengers flew with emotional support animals (ESAs) on U.S. airlines. In 2017, U.S. airlines saw a nearly 60 percent growth in the number of ESAs on flights, which stood in stark contrast to the 3.1 percent growth in the number of passengers. In 2018, while the growth of ESAs "slowed" to 14 percent, it still was significantly higher than the 4.7 percent growth in the number of passengers.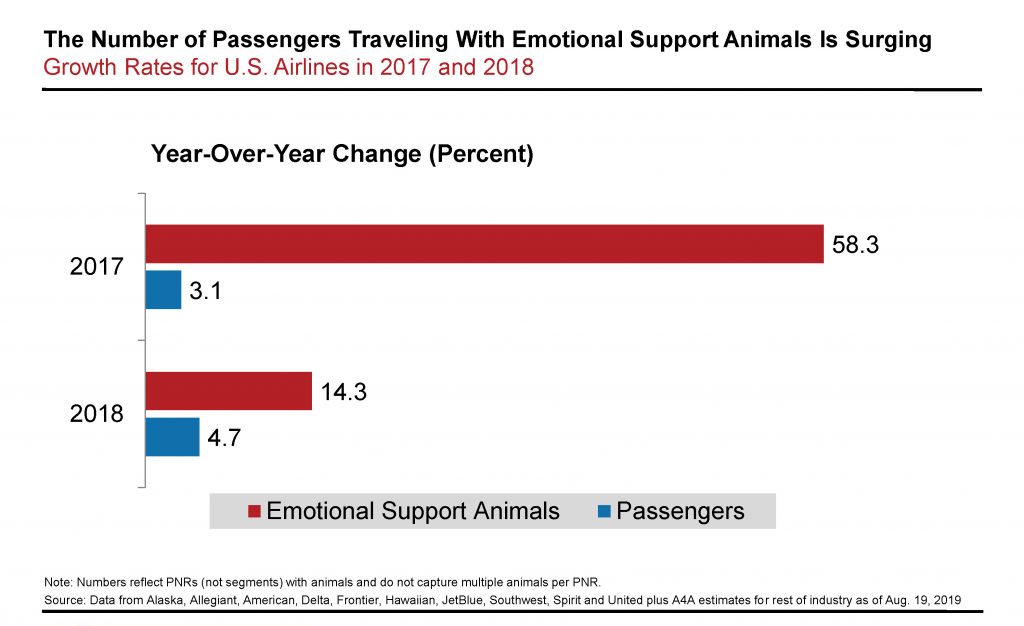 Unfortunately, the increase in travelers flying with untrained ESAs also has led to a sharp increase in animal incidents on flights. Passengers and airline employees have faced everything from urination, biting and other injuries by animals that are not qualified as service animals.
That's why Airlines for America (A4A) was proud to join a coalition of more than 80 organizations, including dozens of disability and service animal groups, to show support for updated guidance issued by the Department of Transportation (DOT) regarding ESAs on commercial flights. Specifically, the coalition wants the DOT to protect the legitimate right of passengers with a disability to travel with a service animal by adopting the definition of a service animal from the Americans with Disabilities Act (ADA).
The coalition was pleased to see the DOT issue new guidelines recently, clarifying that airlines now can prohibit animals that are too large, too heavy, or younger than four months old — due to public behavior concerns. This is just one example of how the DOT's guidance helps address the harm caused by untrained animals flying in airplane cabins.
Those 80+ groups sent a joint letter to Secretary of Transportation Elaine L. Chao, applauding her leadership and commending the DOT's efforts to address the increase of fraudulent ESA credentials.
More direction regarding ESAs could be coming from the Administration. A4A is encouraged to see that the DOT took an important next step by sending a Notice of Proposed Rule Making to the White House for consideration.
Airlines want all passengers to have the most safe and comfortable flying experience as possible, and the DOT's efforts will go a long way in addressing the growing ESA problem and ensuring a healthier travel experience for everyone.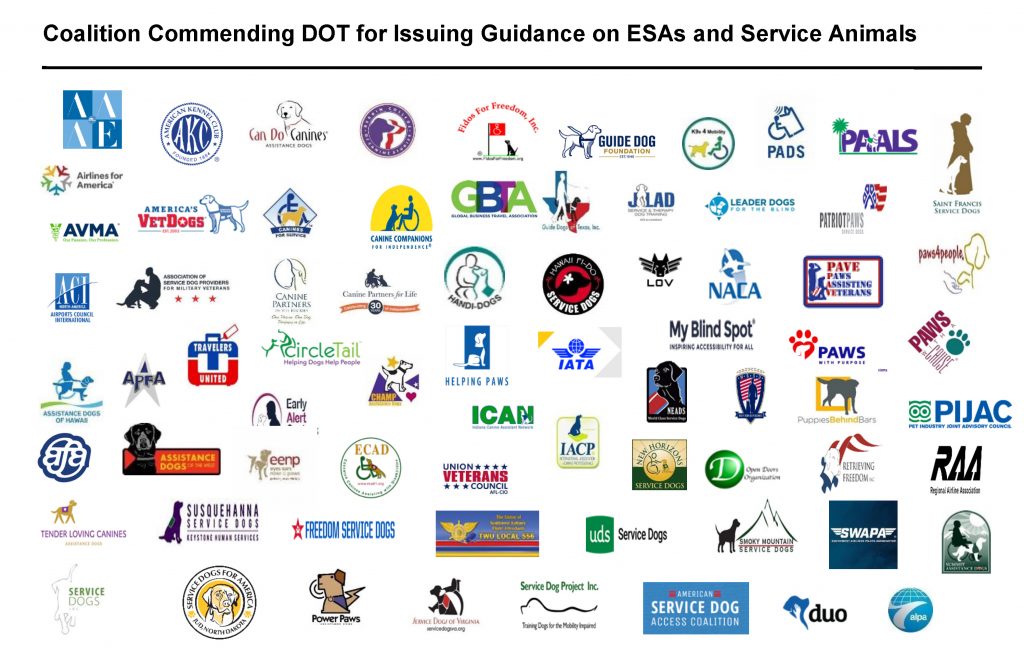 Media Contacts
Marli Collier
Manager, Communications
Hannah Walden
Manager, Communications