Global Significance
Jet Fuel: From Well to Wing
January 22, 2018
According to the Energy Information Administration, U.S.-based jet fuel demand averaged an all-time high 1.74 million barrels per day (bpd) in 2019 and is projected to return to 1.64 million bpd in 2023. Generally, fuel is supplied to airports through a combination of interstate multiproduct pipelines, third-party and off-airport terminals, and dedicated local pipelines. The last few years have continued to demonstrate the fragility of this complex system and the threat it poses to air-service continuity.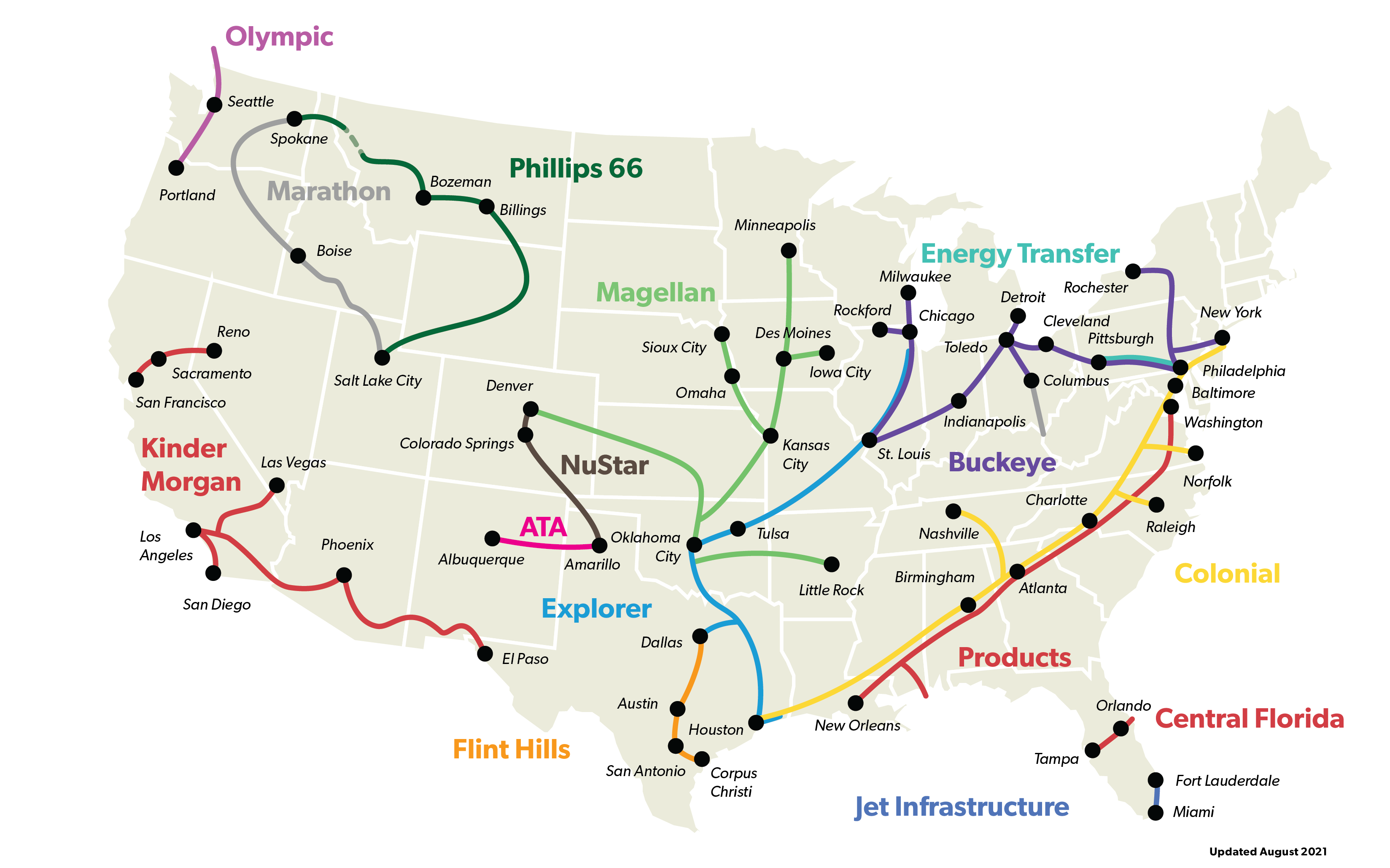 The current interstate refined products pipeline system, constructed many decades ago, is both capacity-constrained and vulnerable to disruptions that typically require a patchwork of costly, inadequate fixes. New shippers have difficulty obtaining line space and long-established shippers have difficulty shipping all of their requirements. It is likely that demand will continue to outpace the capacity of our outdated distribution system for liquid fuels.
Given the increasing demand to transport liquid fuels, it is imperative that we take steps to overcome existing bottlenecks and prevent future ones. These fuels are essential to aviation, trucking and rail, among others, which help power our twenty-first century economy. As shippers and consumers of significant quantities of refined products on pipelines throughout the country, airlines and other users of liquid fuels have a substantial interest in addressing the nationwide deficiency in pipeline investment.
Surely, expedited permitting for fuel distribution-related infrastructure projects could help pave the way to upgrade existing pipeline assets and expand throughput capacity into key markets. But this deficiency is largely tied to a ratemaking system that lacks both transparency and effective regulatory oversight, resulting in a lack of incentives for pipelines to upgrade or expand their existing networks.
Accordingly, A4A calls on the Federal Energy Regulatory Commission (FERC) to increase the transparency of pipeline data submissions, strengthen oversight of over-recoveries and excessive returns and recognize fuel shippers and consumers as key constituents.
Read online
Download print-friendly version
Click here to download print-friendly version.
Media Contacts
Katherine Estep (Spokesperson)
Managing Director, Communications