Sustainability
Deployment of Sustainable Aviation Fuel in the United States
August 22, 2019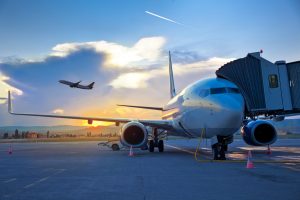 The U.S. aviation industry has taken a leadership role in the development and deployment of sustainable aviation fuels (SAF). We remain committed to advancing the commercialization and deployment of these fuels to help the industry meet its emissions reduction goals, diversify fuel supply and enhance energy security. There are three core criteria that SAF must meet for successful deployment by airlines. The fuels must be:
Equally as safe and effective as petroleum-based jet fuels
Environmentally superior to petroleum-based fuels
Commercially viable
While having the means to demonstrate that SAF is safe, effective and environmentally beneficial is critical, achieving commercial viability requires many more pieces to come together. Each of the following elements of the supply chain must be cost-effective and reliable: (1) commercial-scale quantities of feedstocks; (2) feedstock transportation and processing facilities; (3) facilities to convert feedstock into SAF; (4) facilities to blend "neat" SAF with petroleum-based fuel; (5) confirmation that fuel quality and environmental standards are met; (6) transportation of the SAF purchased by the aircraft operator to an airport; and (7) receipt and deployment of blended SAF at airports.
While building or repurposing refineries to produce SAF – at a cost of hundreds of millions of dollars or more – is likely the most capital-intensive aspect of the supply chain, each aspect requires significant investment and logistics. Relatively little commercial supply of SAF has been produced and deployed to date, and SAF generally has been understood to be significantly more costly than petroleum-based aviation fuel. We have made progress but still need ongoing commitment from an array of stakeholders and public-private partnerships to push the industry over the cusp. There are five primary ways in which airports and other stakeholders can work with airlines to support SAF deployment:
Promote collective understandings and collaboration
Advocate maintaining and expanding positive incentives for SAF
Collaborate with airlines on regional strategies and/or airport-specific opportunities
Support airlines and their fuel producers during initial SAF deployment at an airport
Celebrate volunteerism
Given the criticality of jet fuel to reliable flight operations and its prominence as a cost item, airlines must be the decision makers in fuel supply chain management. But airlines welcome support for efforts to make SAF fully commercially viable and deploy it where it makes sense as we scale up. We encourage airports and other stakeholders to work with us in cooperative ways to evaluate and support policies that will, quite literally, get SAF off the ground.
Click here to download print-friendly version.
Media Contacts
Marli Collier
Manager, Communications
Hannah Walden
Manager, Communications