Connecting Communities
Moving Forward with a Renewed Focus on New Technologies & Based in Science
July 06, 2021
This summer, as vaccination rates increase and COVID-19 cases decrease across the country, Americans from coast to coast are returning to the skies to visit friends and family that they have not seen in over a year. Today, U.S. airlines are encouraged by the resurgence of domestic leisure travel across the country and continue to invest in technologies to instill confidence in the new travel experience. During "Aviation After a Year of Pandemic," a virtual workshop hosted by the National Academics of Sciences, Engineering and Medicine held on June 28, Airlines for America Vice President of Security and Facilitation Lauren Beyer detailed how U.S. airlines are relying on science, research and technology to confidently equip the aviation industry and travelers to soar again.
Since the onset of the pandemic, U.S. airlines have leaned into science and research to prioritize the health and safety of all travelers through multiple layers of protection – including face covering requirements, pre-flight health acknowledgment forms, enhanced disinfection protocols and hospital-grade ventilation systems. The research has supported U.S. airlines' preemptive measures – studies conducted by the Harvard Aviation Public Health Initiative concluded that the layers of measures implemented by airlines effectively mitigate transmission and result in "a very low risk of virus transmission onboard aircraft."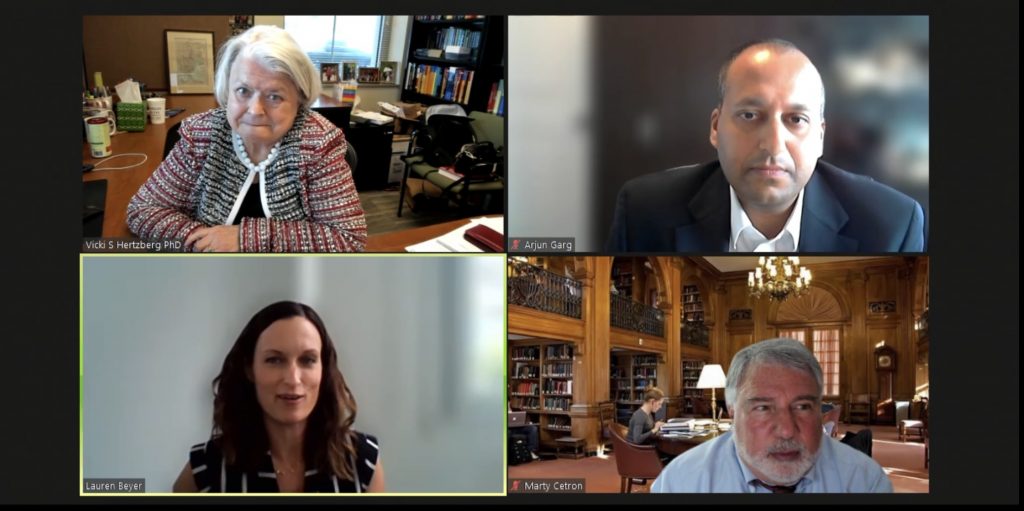 Even as the nation begins to emerge from the public health crisis, Beyer emphasized that the lessons of the pandemic and airlines' commitment to the onboard environment will carry on. During the pandemic, the aviation industry expedited the rollout of touchless technologies, which have had a public health benefit of successfully reducing touchpoints during the travel journey, while also enhancing security, passenger facilitation and customer experience. The technology improvements include enhancements to airline smartphone applications, touchless check-in options at kiosks, increasing options to use biometrics and the application of anti-microbial solutions to surfaces.
U.S. airlines are also "encouraged by the joint efforts from partners at TSA and CBP to similarly explore and implement solutions around reducing touchpoints and enhancing sanitization in different portions of the travel journey," Beyer stated, noting that the collaborative relationship between the aviation industry and the U.S. government is critical to increasing messaging and awareness to travelers.
Demand for domestic leisure travel destinations has shown improvement recently, yet passenger volumes are still down nearly 25 percent compared to pre-pandemic levels in 2019, due in part to corporate and international travel remaining devastated. Recent data illustrated the dire longstanding impacts of the pandemic – in May 2021, 13 of the 25 largest markets from 2019 were still down 90 percent. Restoring international travel to key markets remains a top priority and U.S. airlines continue to "encourage a risk-based data-driven roadmap to reopen markets that prioritize the wellbeing of the traveling public," Beyer said.
While the Administration's establishment of working groups to determine a pathway to safe reopening is encouraging, the working groups must "act quickly to endorse a policy backed by science that will allow travelers who are fully vaccinated or have presented a negative COVID-19 test to travel to the U.S.," she stressed. Science has established that air travel is safe for international vaccinated or tested travelers, and many of the key international markets have some of the highest vaccination rates around the world. Integrating a reciprocal policy for vaccinated travelers from countries with similar successful vaccination programs would move away from broad geographic restrictions and would instead move to a targeted risk-based profile that would allow for the safe reopening of critical international markets.
As U.S. airlines advocate for a "harmonized approach to restore international travel," voluntary digital health credentials also remain a priority for the industry. A4A and its member carriers do not believe that vaccinations should be required for domestic or international travel. But in countries that require proof of COVID-19 vaccination or a negative test result, A4A "advocates for the voluntary use of a digital health credential." The incorporation of digital health credentials is beneficial to travelers by rapidly and accurately verifying a COVID-19 vaccination or test result.
Given that vaccination records are difficult to validate and the lack of efficiency with reviewing paper records, U.S. airlines have been investing in streamlining processes to make the vaccination verification process secure and efficient. There are several applications that currently support the use of digital health credentials to facilitate the travel journey. However, it is not a certain individual program that A4A advocates for, Beyer clarified. Rather, A4A is encouraging the U.S. government to establish privacy and security standards for these applications, which will protect passenger privacy and ensure result legitimacy across the applications.
Across the country, it is clear that Americans are eager to book tickets, pack their bags and go. With new technologies and enhanced disinfection protocols incorporated from check-in to deplaning, U.S. airlines remain committed to providing a travel experience based in 21st century solutions during the summer months and for seasons to come.
Media Contacts
Katherine Estep (Spokesperson)
Managing Director, Communications
Carter Yang (Spokesperson)
Managing Director, Industry Communications