Working for You
A4A NDT Forum Welcomes Back Attendees after Two Years
October 11, 2022
The Airlines for America (A4A) Nondestructive Testing (NDT) Forum convened in San Antonio, Texas, last month to discuss current trends, issues and successes in NDT methodologies. The event marks the 63rd convening of the group and the first in-person gathering since 2019.
The NDT Working Group was joined for the first time by A4A's Maintenance Programs Industry Group (MPIG) and the SAE Aerospace Industry Steering Committee on Structural Health Monitoring (AISC-SHM), which broadened the agenda for this year's conference.
The two-year postponement did not dampen the enthusiasm for discussion that equipment designers, technicians, vendors, regulatory authorities, aircraft engineers and manufacturers had for the important field of NDT as the forum attracted a full slate of speakers for the three-day meeting.
This year, the event featured panel discussions on special topics alongside a number of presentations on achievements and lessons learned since the group last met in 2019.
Nondestructive testing technologies help ensure the longevity and safety of aircraft structures by detecting defects well before they can be seen or cause a failure.
Event sponsor Southwest Research Institute (SwRI) invited this year's attendees to join a tour of its San Antonio-based facility where it conducts applied research involving a myriad of industries from ocean engineering to space research.
Attendees learned about various research projects relevant to aviation engineering and testing methods, including one experiment that demonstrated the use of adapted magnetostrictive sensors to assess aircraft structural health.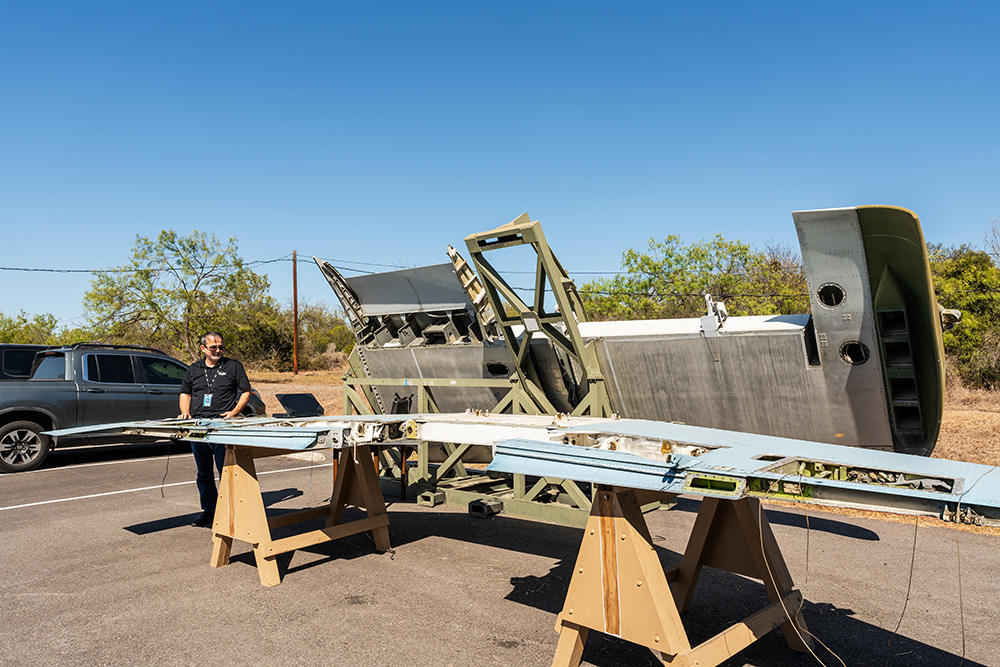 Engineers placed a magnetic probe on a simulated aircraft structure to demonstrate how it can detect unseen structural detects such as cracking and corrosion.
In another demonstration, SwRI engineers demonstrated how low-voltage eddy currents can be used to inspect for cracks in repaired bushed holes in fatigue-critical parts.
Eddy currents were also used in another demonstration to detect fabrication grinding burns on a chrome-plated landed gear. The technique helps detect potential areas of concern without having to take the costly and time-consuming step of remove the chrome layer.
In addition to SwRI, the A4A NDT Forum was also sponsored by SAE International, which joined A4A in presenting the 18th NDT Innovation Award, which honored one of this year's presentations for furthering the science and efficacy of nondestructive testing.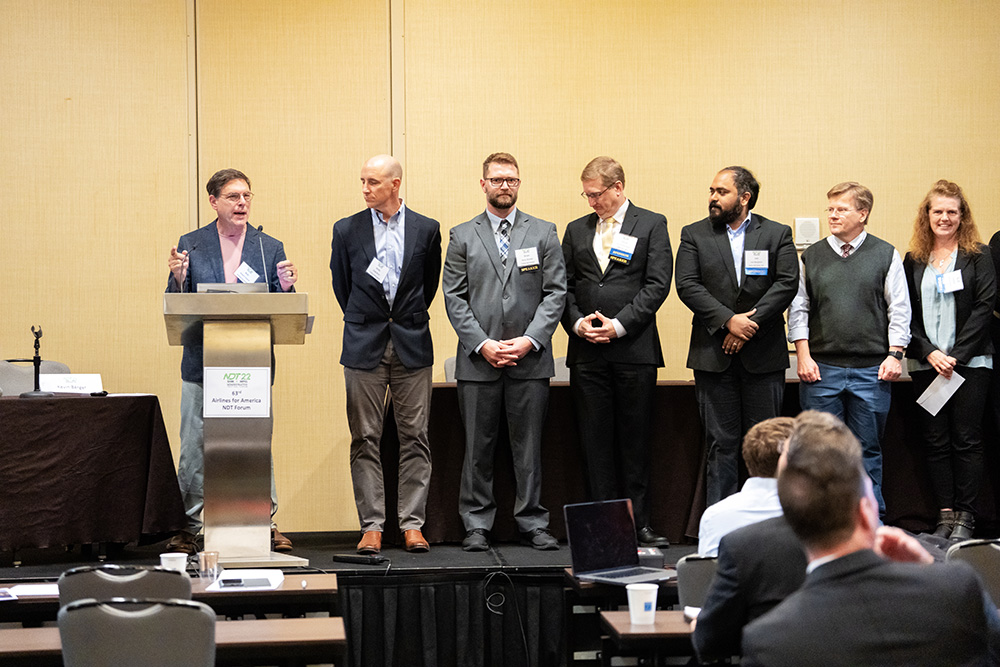 A team lead by Collins Aerospace, Delta Air Lines, Vibrant Corporation and the U.S. Air Force developed a technique for florescent penetrant inspection (FPI) for aircraft wheels that reduced both greenhouse gases and hazardous waste streams both by one-third.
Delta TechOps and Vibrant were also sponsors of this year's meeting along with Boeing, Eddyfi Technologies, FedEx, Southwest, United Technical Operations, Alaska, JetBlue, ST Engineering and Techna NDT.
Safety is and will always be the number one priority of U.S. airlines, and A4A is proud to support the sharing of knowledge and methods that help aircraft maintenance engineers and personnel continue to meet and exceed the highest standards of safety.
Media Contacts
Marli Collier
Manager, Communications
Hannah Walden
Manager, Communications