Industry Insights
Charting a Career in Aviation
August 24, 2017
When it comes to recruiting the best of the best, the aviation industry takes its job very seriously – after all, more than 2 million people depend on airlines every single day to safely transport them where they want to go. For the nation's carriers, much of that recruitment starts with making early impressions with today's youth.
In fact, airlines have spent the past several months ramping up their efforts to get the attention of thousands of eager students who will be headed back to the classroom to start a new year.
Airline-hosted "Aviation Days" are geared towards presenting students with unique opportunities to explore an array of careers while offering a variety of hands-on activities. Airlines bring their incredible work front and center for thousands of students who may have never considered a career with the airlines before. Held in many hub cities across the country, airlines are dedicated to educating students and arming them with a real-life action plan to further their interests in aviation.
Alaska Airlines held its ninth Aviation Day in Seattle and Portland this past May where more than 1,200 students explored a 737 and a U.S. Navy EF-18 Growler, tested their maintenance skills and even practiced preflight checks with pilots.
United Airlines has held a few Aviation Days so far this year, one in partnership with Spartan College in Denver at the United Airlines Tech Ops Facility and another at Southern Illinois University.  United's events welcomed hundreds of local participants and future aviation students who were eager to learn about aviation careers in mechanics, engineering, operations, electronics and even pilot opportunities.
Southwest Airlines recently partnered with the Federal Aviation Administration for a special "Oakland Aviation Day" that welcomed more than 50 elementary and middle school students from the Oakland Unified School District. The all-day event offered the next generation of aviation enthusiasts unique hands-on training, classroom lessons and interactive tours, with students also given the opportunity to tour the Oakland's Air Traffic Control Tower while experiencing real-time Southwest Airlines operations.
In addition to hosting their own or partnering on special community days geared towards students, airlines also work with high schools, colleges and several aviation-specific educational programs around the country to provide unique internship opportunities and grant programs.
Through programs at places like Vaughn College, the Organization of Black Aerospace Professionals and Universal Elite, airlines help bring real-life experiences to  communities across the country. These engaging experiences enable students to learn about the magic of flight and provide meaningful connections for their future and ignite passions in aviation.
American Airlines recently launched its Flight School Grant Program, with the goal of generating renewed interest in aviation among today's youth. In July, American announced it would invest $25,000 in the Tuskegee NEXT program, a nonprofit outreach program based in Illinois.
And through an exclusive partnership with the Aviation Community Foundation, a non-profit working to prepare students to be career and/or college-ready, JetBlue welcomed nearly 100 students to its hangar at JFK. The New York Student Aviation Expedition featured several days' worth of hands-on opportunities, educational sessions and keynotes for the students, as well as a unique STEM challenge that culminated in a helicopter ride across Manhattan for the winning team.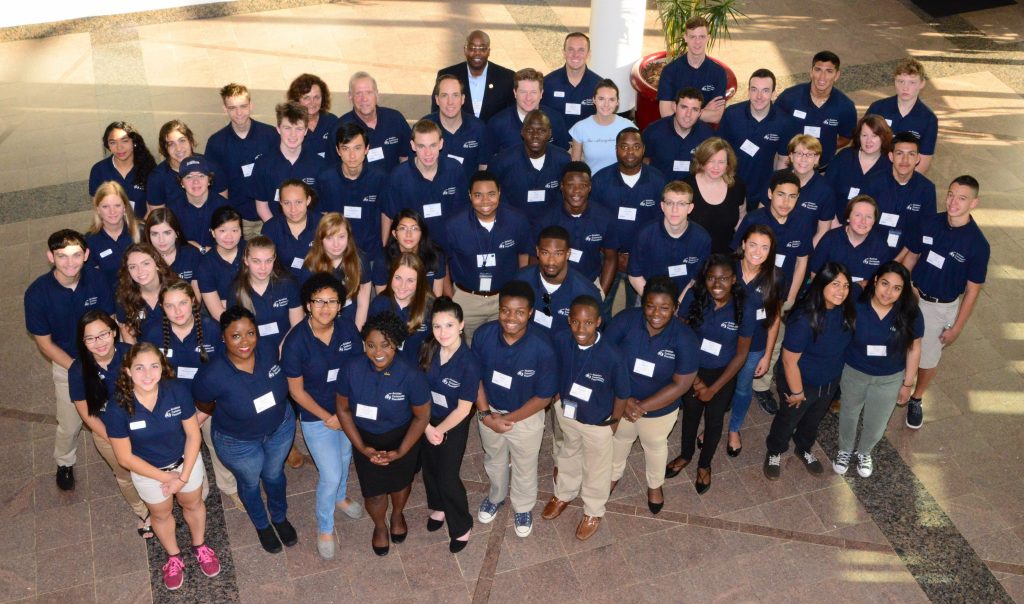 Aviation Community Foundation Tour T5 from JetBlue on Vimeo.
And it seems the students really took the opportunity to heart.
"The opportunity that the Aviation Community Foundation provided us, the next generation of aerospace minded professionals, was truly a great one. We met with numerous industry leaders and executives who were graciously available to us so that we had the wondrous chance to connect and ask them questions. I would like to again thank all those at ACF and the Aerospace Center for Excellence for making this possible for the students around the country, for this really puts us a step ahead of most interested in the business at such young ages."
Luke Liptak, Aerospace Center for Excellence
These are just a few of the amazing opportunities airlines provide for students to get involved and learn how airlines connect the world. With bells officially ringing in the 2017-18 school year, airlines are already full speed ahead with preparations to get in front of the next generation of aviation leaders.
As the new school year begins, we encourage you to get involved with a local aviation program to help today's students' dreams take flight. You can learn more by visiting http://aviation-community.org.
Media Contacts
Katherine Estep (Spokesperson)
Managing Director, Communications
Carter Yang (Spokesperson)
Managing Director, Industry Communications