Around the world, U.S. passenger and cargo airlines directly employ hundreds of thousands of people with high-quality careers – and the vast majority of those positions are based right here in America. A 2016 analysis by the Federal Aviation Administration showed that airlines and their customers, along with airports, manufacturers and suppliers, ultimately supported more than 10 million jobs across the country in related industries such as research and development, manufacturing and tourism. That's an impressive one out every 14 jobs throughout the U.S. economy.
It is no coincidence that as the finances of U.S. airlines in particular have improved, they have steadily boosted staffing and wages for their workforce, with obvious spillover benefits not only for airline customers but also for the economy at large. In fact, for every 100 airline jobs, approximately 300 more are supported directly or indirectly outside the industry.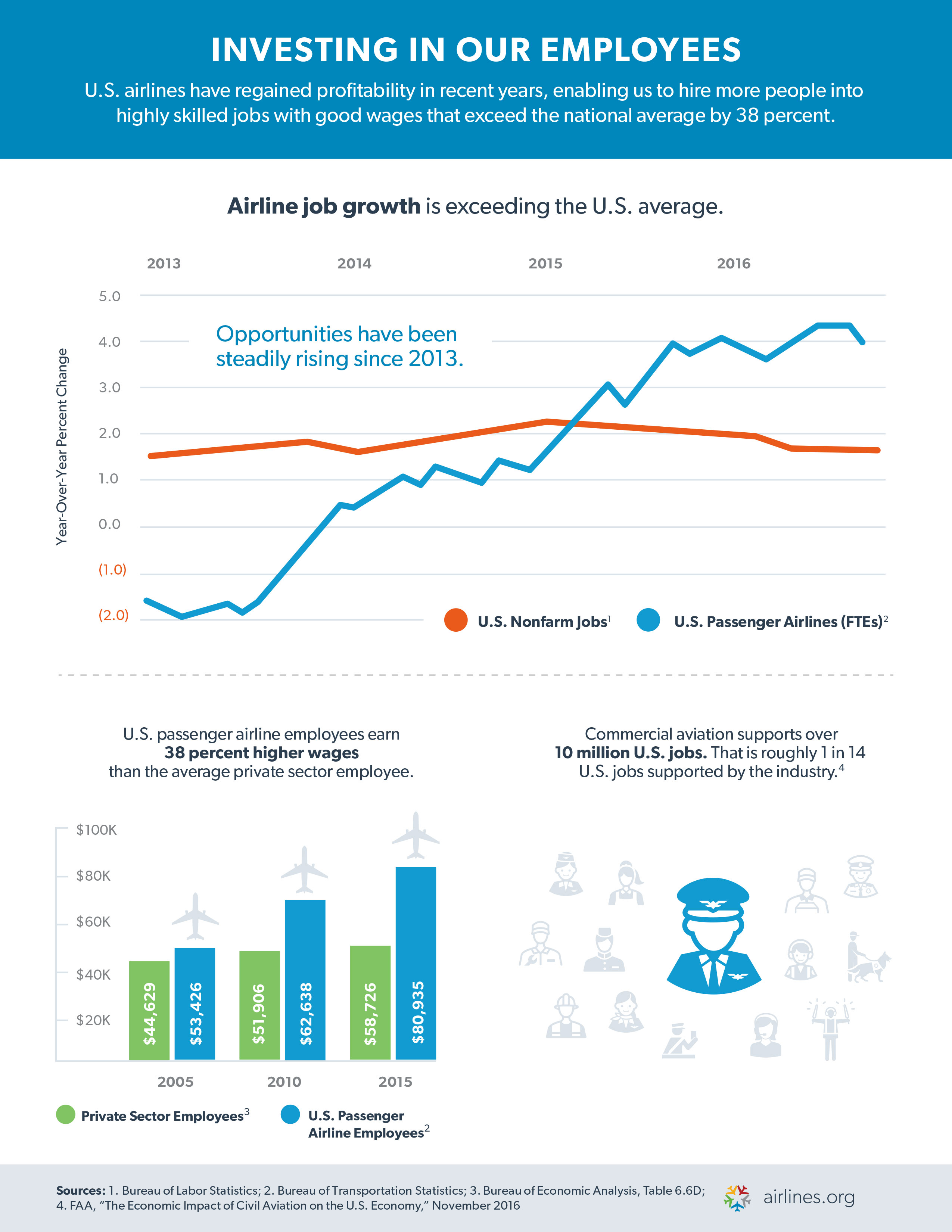 Combined, U.S. passenger and cargo airlines ended 2016 with nearly 700,000 workers on their payrolls – the highest level in 16 years. With seven consecutive years of profitability, these airlines added 33,000 full-time equivalent (FTE) workers from 2010 to 2016, with expenditures on wages and benefits rising 44 percent over that same timeframe to $44 billion. And, further evidence that the airline industry is truly powering our economy, the Bureau of Transportation Statistics recently reported that employment among U.S. passenger airlines has grown year-over-year for 38 consecutive months, with the rate of growth hovering at 4 percent – twice the rate of job growth for the overall economy.
Meanwhile, with many stories being written about wage stagnation across the U.S. economy, the average wage at U.S. passenger airlines in 2016 rose 35 percent from 2010 and remained well above the U.S. private-sector average. In fact, the most recent available data show that U.S. passenger airline employees enjoy wages 38 percent higher than the U.S. private sector average.
Few industries are as integral to our 21st century way of life as the airlines. Because of our globally competitive industry, the safe, rapid intercity – and intercontinental – transport of people and goods is something we can all rely on at a moment's notice.
And while half the U.S. population flew in 2016 – up from just a fifth in the early 70s, the other half still depended on our nation's airlines to bring them valued products through our cargo carriers, who ship nearly 50,000 tons every day.
The more freely and efficiently we can grow, so too will the airlines be able to contribute to the growth of U.S. workers and wages.
This post was written by John P. Heimlich, Vice President and Chief Economist at Airlines for America.