Cargo carriers connect the world every single day, transporting everything from the food on your dinner table and books you read to electronics and life-saving medicines. Ahead of Super Bowl LIV, the NFL needed to transport a precious piece of cargo, the iconic Vince Lombardi Trophy, from New York to Miami. The most efficient way of shipping it was by air.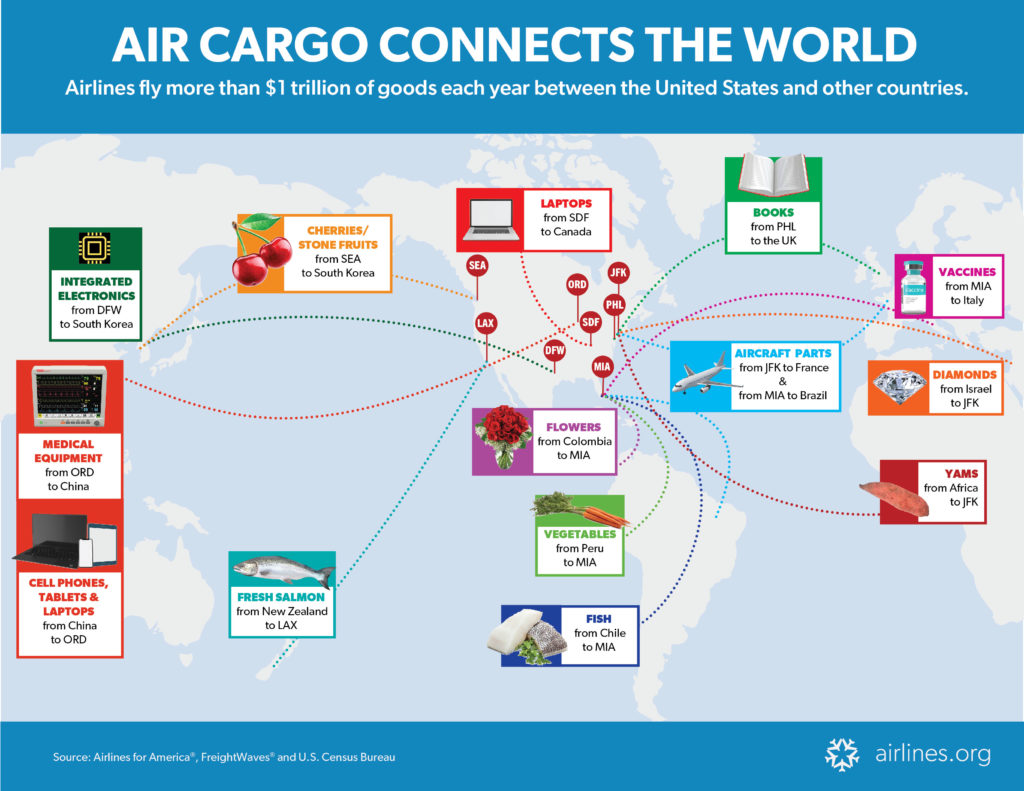 The 7-pound, sterling-silver football, which was handcrafted by Tiffany, was carefully packed and placed on a FedEx Express flight, complete with the company's SenseAware system, which tracked the trophy's location and monitored the temperature on the plane. The package was part of the 58,000 tons of cargo that U.S. airlines carry on a daily basis within the U.S. and to and from more than 220 other countries across the globe. Every day, fresh-cut flowers from Colombia land in Miami while laptops bound for Brazil take off from Miami, and medicines are flown from San Juan to Spain while salmon is air-shipped from Norway to New York.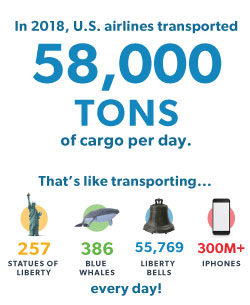 More than half of the world's air cargo is carried on air freighters, like the planes used by all-cargo carriers such as FedEx, UPS and Atlas Air, while the rest is shipped in the belly of passenger aircraft. All told, airlines carry more than $1 trillion worth of goods between the U.S. and other countries every year. Some cargo has value that cannot be measured in dollars: vaccines and other critical pharmaceuticals are shipped via air under temperature-controlled conditions to ensure they reach their destinations intact and in time to be effective. The World Health Organization estimates that immunizations alone prevent 2-3 million deaths every year.
The first recorded cargo flight was in 1910, just seven years after the Wright brothers' famous first flight at Kitty Hawk, North Carolina. A Wright Model B carried two bolts of silk from Dayton, Ohio, to Columbus, Ohio. Now, more than a century later, airlines move some $7 trillion in cargo through the air every year.
Just take a look around to see the significance of air cargo: whether it's the vegetables from Peru on your dinner plate, the shirt from Bangladesh on your back or the Swiss watch on your wrist, your life has undoubtedly been enriched by air cargo.