Industry Insights
Airlines Are Getting Greener All The Time
August 18, 2016
The U.S. airlines are critical—and green—engines of the economy. In fact, between 1978 and 2015, the U.S. airline industry improved its fuel efficiency by over 120 percent, resulting in 4 billion metric tons of carbon dioxide (CO2) savings – the equivalent of taking over 23 million cars off the road in each of those years. U.S. airlines burned 6 percent less fuel in 2015 than they did in 2000, resulting in a 6 percent reduction in CO2 emissions, even though they carried almost 24 percent more passengers and cargo. That's why U.S. commercial aviation accounts for only 2 percent of the nation's man-made greenhouse gas (GHG) emissions, despite the fact that we account for 5 percent of the nation's GDP and support 11.3 million jobs.
And we're not stopping there.
A4A's members are aggressively pursuing additional opportunities to reduce emissions and are part of a global aviation coalition that has committed to 1.5% annual average fuel efficiency improvements through 2020 and carbon neutral growth from 2020. We are doing our part, and are counting on government and industry to do their part to achieve critical aviation infrastructure and technology advances needed to meet these commitments. Our work is designed to responsibly and effectively limit our fuel consumption, GHG emissions contribution and potential climate change impacts.
For example, U.S. airlines are upgrading their fleets with brand-new aircraft, purchasing 388 new aircraft in 2015, with more than 366 expected this year, each more fuel- and emissions-efficient than the aircraft they replace. We are central stakeholders in partnering efforts to modernize and professionalize the air traffic management system on a business-case basis, which could bring significant emissions savings through improved efficiency. We are also dedicated to developing commercially viable, sustainable alternative aviation fuel, which could further reduce aviation's GHG emissions while enhancing U.S. energy independence and security.
A4A is a founding and co-leading member of the Commercial Aviation Alternative Fuels Initiative® (CAAFI), a public-private partnership with the U.S. Federal Aviation Administration (FAA) and other stakeholders, working to accelerate the development and deployment of such fuels. Having helped lay the necessary technical groundwork, A4A members have already begun to use bio-jet fuel on commercial flights and we are actively engaged in research and development efforts for additional breakthroughs.
In addition to a broad array of technology, operations and infrastructure initiatives, the U.S. airlines are also supporting a regulatory structure that will help ensure that we meet our goals. Accordingly, we are strong supporters of a global sectoral approach to aviation climate change policy under the International Civil Aviation Organization (ICAO), the United Nations body that sets standards and recommended practices for international aviation.
A4A and our global coalition supported ICAO's recent adoption of a CO2 certification standard for future aircraft – work that was led by the FAA and Environmental Protection Agency – and we are advocating adoption of that standard under U.S. law. Our members also support the development of a global carbon offset system under ICAO to serve as a "gap-filler" should we not be able to achieve carbon neutral growth from 2020 through concerted industry and government investments in technology, operations and infrastructure. Adoption of that system will be up for approval when the 191 Member States of ICAO meet in their Triennial Assembly in late September.
The U.S. airlines are proud that our business model to fly efficiently aligns with our interest in flying green. If you want to feel good about the future, look up!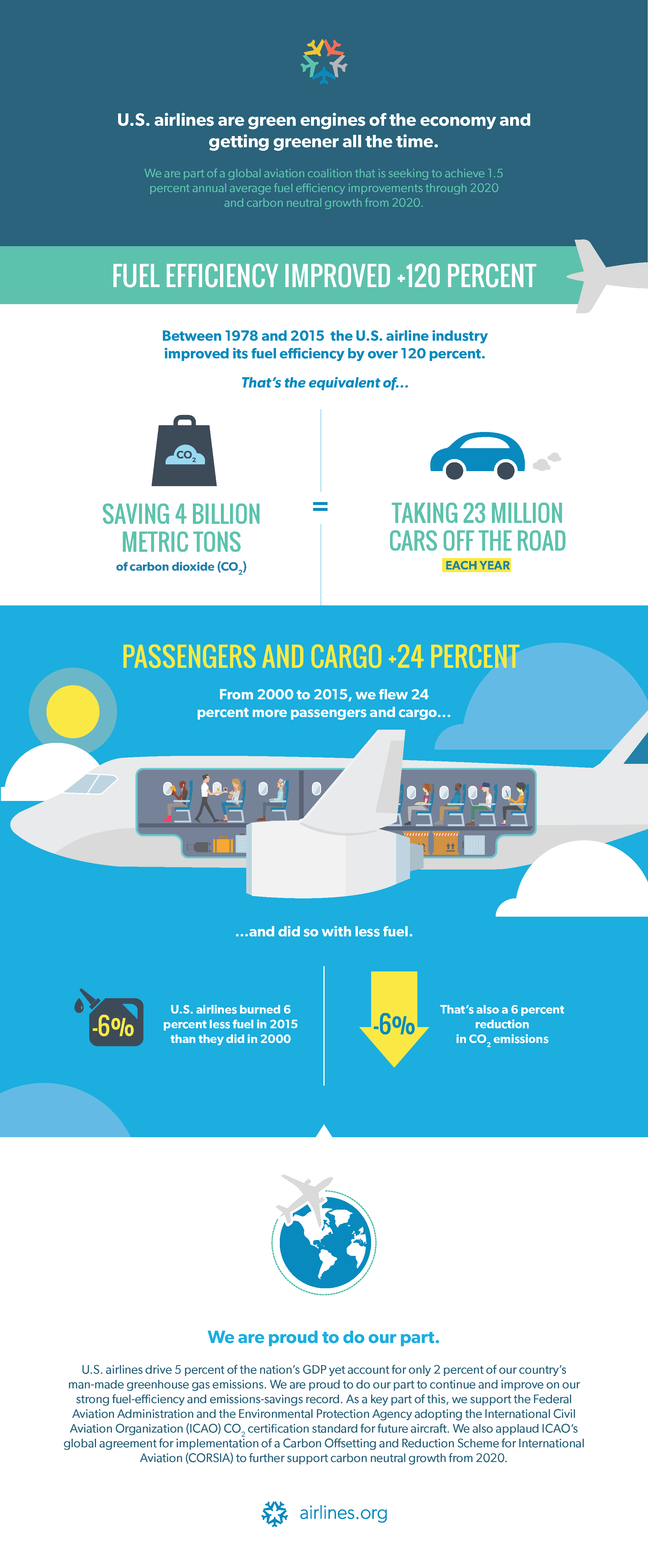 Media Contacts
Katherine Estep (Spokesperson)
Managing Director, Communications
Carter Yang (Spokesperson)
Managing Director, Industry Communications